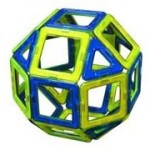 KID recently took a look through the SaferProducts.gov posting board to see what consumers were talking about. We noticed some interesting patterns to watch out for so you and your loved ones can stay safe from these potential hazards.
There were 30 children's product-related consumer reports in the month of December.  The incidents ranged from safety failures of strollers to toys causing bruising, cuts, or pulling out hair. There were many instances of choking or potential choking hazards. KID reminds parents and caregivers that an item poses a choking hazard for a child under three if any part of the item can fit through a toilet paper tube.
On December 15, two posts were published of incidents where fingers were pinched in the hinge of a Graco LiteRider Stroller. In one case, it was a parent who was injured. In the other, it was a 1-year-old. Neither incident, thankfully, required serious medical attention.
That Graco Stroller was recalled on November 20, 2014 for fingertip laceration or amputation hazards. KID urges parents and caregivers to fill out product registration cards and to sign up for KID email alerts in order to stay as up-to-date as possible on product recalls and prevent injuries from recalled products.
Another report was published on December 3 which detailed the risks associated with magnetic toys—a six-year-old boy required two surgeries to repair holes in his bowels after swallowing magnets from a set of Magformer Blocks. Even though the magnets were inside the blocks, they were not protected well enough from a naturally curious child. Although the CPSC has adopted stronger standards for magnet sets, the CPSC may still be unaware of dangers associated with sets like Magformer. If you have a similar product and you have experienced a magnet coming lose or being removed, be sure to post about it on SaferProducts.gov.
If you have experienced any product safety concerns, report them at SaferProducts.gov to alert the CPSC, other consumers, and manufacturers. You can also read the reports of other consumers. KID encourages consumers to use this resource to take product safety into their own hands!