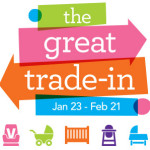 At Kids In Danger, we often talk about the dangers associated with used children's products, especially those that are worn out, damaged, or which fall short of the newest, strongest safety standards. Often, products stay in use after recalls as well, because consumers are not aware that the recall has been issued. For these reasons, we encourage families to take stock of the items their children use and purchase products that meet the newest safety standards. We realize, however, that this can be expensive for families.
That is why we are so excited that Toys"R"Us is once again offering its Great Trade In event this year from January 23 to February 21. Through this program, parents and caregivers can bring in any used car seat, stroller, travel system, high chair, play yard, bassinet, infant swing, bouncer, walker, entertainer, crib, or toddler/twin bed in exchange for 25% off a new item in any of those categories. Products can be returned to any Toys"R"Us or Babies"R"Us location. Toys"R"Us reports that over 1.1 million used and potentially unsafe products have been removed from the marketplace since the program's inception.
KID strongly supports efforts by retailers to protect their customers. Thanks to this program, replacing used items that do not meet federal safety standards is easier and more affordable for parents across the country. If you have used children's items, you can review for potential dangers on KID's Product Hazards site and then check out The Great Trade In website for more information.
The Great Trade In only happens once a year, so be sure to share information about this fantastic event with other parents and caregivers!