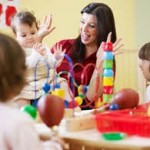 A lot has been happening in New York City this past week, including Toy Fair. This event brings together toy industry professionals from across the globe to showcase new and innovative children's products. Many of us mainly think about toys around the holidays, but this event demonstrates that lots of people (more than 27,000 people attend the event annually!) are thinking about toys year round.
Here at KID, we are also thinking about toys no matter what the time of year — safety is our first consideration for any toy — old or new. Why? Because, according to the CPSC's recent toy safety report, 256,700 children under the age of fifteen were seen in emergency rooms in 2013 for toy-related injuries. In addition, hundreds of toys have been recalled in the past few years.  Below are some simple tips parents and caregivers can use to keep kids safe from potential toy hazards:
Read and follow the age label for the toy. Age guidelines are given for safety reasons and should not be ignored even if your child seems advanced for her age. 
Easily determine if a toy is too small for your young child by using the toilet paper tube test. If the toy (or any of its parts) fit in the tube, it's too small for children under 3.
Check toys often for hazards like loose parts, broken pieces or sharp edges. Repair or discard any weak or broken toys. Report any hazards to the manufacturer and to SaferProducts.gov
Parents and others can help make toys safer by reporting hazards in toys to SaferProducts.gov.  By visiting KidsInDanger.org on a mobile device, you can search for recalled products before you buy or accept a hand-me-down. Protect your children by staying up-to-date on product recalls and safety information through KID e-mail alerts.