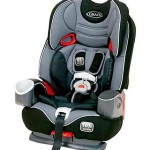 On March 20, the Department of Transportation announced a $10 million fine against children's product manufacturer Graco for failing to report incidents with their car seat buckles.  In 2014 Graco announced 2 recalls for nearly six million car seats because the buckles could fail to unlatch.  Complaints about the buckles came as early as 2009; Graco brushed them off as caused by food and drink being spilled on the mechanism.  As it turned out, brand new out of the box car seats showed the same stuck buckles.  But even so, food and drink falling into the lap of a toddler or baby certainly could have been foreseen. 
In February, Graco announced a recall of 3.7 million convertible seats – but didn't include infant seats that latch in and out of a base in the car despite having the same buckles. Graco said that since the parents could just remove the entire seat, it wasn't a hazard if the buckle stuck.  Small comfort to the panicked parent trying to get a child out of a car in an emergency.  Later that year, they did issue the recall for an additional 1.9 infant seats.  However, comments on the reports of this fine seem to indicate a problem with some consumers receiving the fix – new buckles – in a timely fashion. 
This isn't the first time Graco has had to pay a hefty fine for being less than forthcoming about a safety problem.  In 2012, the US Consumer Product Safety Commission (CPSC) fined the company $4 million for similar behavior on a stroller defect.  Bobby Dean died in one of the strollers when his head was caught.  His family knew nothing of previous deaths and injuries.
In the announcement of the fine, NHTSA said that $3 million was payable immediately by Graco  and that $7 million would be due in five years if Graco failed to spend it to improve child safety.  The $7 million must be spent to meet targeted performance obligations including:
Improving its assessment and identification of potential safety defects.
Creating a scientifically tested program to increase effectiveness of child seat registration programs.
Revising its procedures for addressing consumer safety complaints and speed the recall of defective products.
Launching a campaign to disseminate safety messages to parents and caregivers by producing media products to incorporate in child safety campaigns.
KID and the families of children injured by Graco products will be watching and look forward to proactive action by the company.