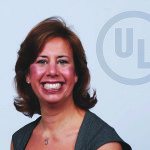 Tonight, KID will host our annual Best Friend Award night. This year, we are honoring Barbara Guthrie- Vice President and Chief  Public Safety officer at Underwriters Laboratories.  Read the Q & A below to find out more about Barbara and why she's our 2015 Best Friend. 
What led you to a career in product safety?
 It was truly a journey, an evolution of choices.  Early on I recognized a strength (and enjoyment) in math and science.  I began as a Freshman Electrical Engineering student at Bradley University.  I vividly remember attending my very first class – Physics – and walking into a lab overflowing with guys in jeans.  Talk about a culture shock. Once over the shock – the thrill set in and I was committed. 
Fast forwarding four years, it was time to look for a job.  I had several interviews and offers; however the one that stood out was from Underwriters Laboratories, UL.  It was my grandma that really convinced me to join UL.  She knew of the great and important contributions UL made to product safety, citing a toaster electrical fault she knew of as a child.  Grandma's points were simple, direct and logical.  If you can do something you love and do good for the world by doing it – you have the best of both worlds.  Why not I thought?  And so began three decades of work in product safety.
What is your favorite part about the work you do?
Being a results-driven individual, I simply want to know that time spent provides value and impact.  Whether that time is spent developing new standards for products; testing and certifying products for safety; mentoring individuals; strategizing ways to impact safety around the globe; working with governments and the private sector to help create sustainable safety systems; conducting safety research on new/unusual or innovative products or safety solutions.
If you could offer one piece of advice for parents and caregivers on protecting their children from dangerous products, what would it be?
Pause, consider the consequences and take care of the possibilities.
How have you seen the field of product safety change since you started?
Clearly it is a more collaborative, informed and empowering process, made up of a diverse group of interested, experienced and passionate stakeholders ranging from manufacturers to industry associations to governments to non-profits to public and private sector organizations up to and including consumers.
Where would you still like to see improvements in the field?
I believe strongly in science-based decisions – with that said, we are still lagging in the human factors, human health and human psychology and we strive for sound safety solutions.  As an example, flame-retardants were introduced decades ago as an innovative way to address fire safety.  You'll find flame retardants in clothing, furniture, bedding – nearly everything in our homes.  We now understand that flame retardants have a potential side effect on human health.  Physical contact with flame retardants in addition to inhaling the off-gases of these chemicals, may lead to health issues such as asthma, birth defects and physiological disorders.  We need to continue efforts to mitigate hazards without introducing new hazards.  And, we have to consider systematic solutions – no longer can we look at discrete safety solutions.  We must have a holistic view and holistic safety solutions.
6. And how can parents and caregivers get involved in asking for these improvements?
You've answered your question within the question – parents and caregivers need to ask for these improvements.  Challenge the safety solutions provided.  Pause, consider the consequences and take care of the possibilities.  Socialize the questions through the vast networks of innovative communications now available to us – we all have a voice and the more we collectively question the status quo, the stronger our ability to change direction and drive for better, holistic safety solutions.
Please describe your relationship with KID. How did that come about and can you share a few things that we accomplished together?
Few organizations can claim their purpose for being is mission driven and pure in intent to help others.  I have the distinct privilege of working for such an organization.  Out of an unspeakable tragedy involving Danny Keyser, KID was founded – an organization also mission driven, and pure in intent to help others.  My introduction to KID was back in 2004 where I attended my first Best Friend Award Night honoring Rachel Weintraub and Mary Ellen Fise.
Following that, UL contributed both in-kind and financially to the KID's TEST program. In addition to getting my colleagues at UL involved, I had the privilege as serving as judge being witness to the very creative, innovative and safety-minded solutions to safer children's products from the students of Northwestern.  Our paths continue to cross whether at ICPSHO conferences, through ASTM, a press conference about YoYo balls and throughout the community that works to keep children safe. 
KID has what it takes.  I would encourage anyone who values the safety of our children to support KID.  Together we can all make the world a safer place.
Check out our BFA website for more information about the event and how you can contribute to this once a year event.