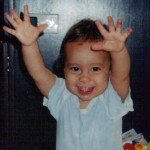 Today, many of us are with our mothers, our children or perhaps both — celebrating Mother's Day.  Here at KID we wish you all a wonderful day together.  Mothers and children are at the heart of our work.  We work every day to keep toys and nursery products safe and alert parents and caregivers to dangers – so they can remove them from their homes and facilities. 
KID started our work seventeen years ago this week.  On May 12, 1998 little Danny Keysar was killed by a defective portable crib.  Far from the freak accident his parents initially thought, his death was a direct result of a broken product safety system.  The crib had been designed and offered for sale without safety testing – the first child died within months of it entering the market.  Danny died eight years later, five years after the crib was recalled – the 12th to die in cribs of that design. 
KID works to build a system that would prevent that death today.  We have strengthened safety standards at the voluntary level and advocated and pushed until mandatory standards were adopted.  We continue to push to increase recall effectiveness – if we know products are dangerous, we should be doing everything we can to get them out of homes, off store shelves and the pages of internet retailers.  And while we've made great strides with standards for cribs and portable cribs such as the one that killed Danny, we have a long way to go to keep new products off the shelves until they meet tough standards and are proven safe. 
So this week of Mother's Day, take time to honor your own mother, love your child, support KID and other organizations working to keep our children safe.  Check the products in your home for recalls, share a poster of recent recalls with your child care facility, call your elected officials to let them know you want them to put safety first.  Together we can make a difference and protect our children.