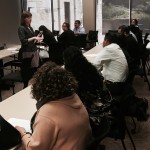 As usual, it was a busy week for KID's education and outreach programs. On Saturday, we presented our safety workshop Creating safe environments for children at the YWCA- Lake County conference in Deerfield, IL.  The first presentation was in English, and the second was in English and Spanish. We were able to conduct this bilingual training thanks to KID volunteer Catie Callahan who translated the workshop for the 20+ Spanish speaking providers in attendance. That same day, KID intern Chloe Germaud attended the Prentice Hospital Community Baby Shower with SIDS of Illinois to pass out safety information to over 250 local parents.
On Monday, we were invited to attend the first ever Illinois newborn practice roundtable in Chicago, IL. At this gathering, professionals from across the state and from different sectors joined to discuss what we can do together to increase infant and family health and wellness in Illinois.
Meanwhile, KID Executive Director Nancy Cowles was in Philadelphia for standards setting meetings at ASTM International.  This week, the group is looking at juvenile products standards – everything from baby swings to strollers, crib mattresses to high chairs and more.  In particular KID asked the infant bedding committee to take a closer look at research on infant bedding deaths and to consider a warning on infant comforters to keep them out of cribs.  The issue of supplemental mattresses came up in several committees and an effort is underway to remove these from use.  Continuing in the mission of safer products, on Friday Nancy will join engineering students at Northwestern University through KID's TEST program to review their projects on designing safe products that calm fussy babies. 
Keep up to date on KID happenings and safety news by visiting our Facebook and Twitter pages and by subscribing to our monthly email alert.