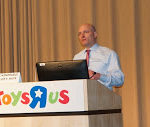 KID ED Nancy Cowles recently attended the International Consumer Product Health and Safety Organization's (ICPHSO) regional workshop and training in Wayne, New Jersey.  ICPHSO, a coalition of product safety stakeholders, has a mission to provide a neutral forum for the discussion of product safety.  Nancy is President Elect and working on planning next year's annual symposium in DC the end of February.
The regional workshop, hosted by Toys"R"Us, covered topics such as preparing for a recall, age grading, voluntary standards and the safety hierarchy.  Experts from industry, consumer groups, regulators and others presented information in an interactive format allowing questions and participation from the audience. 
Of particular interest to KID is the discussion of the safety hierarchy – the idea that to lower the risk of injury or death from products, designers and manufacturers should first work to design all hazards out of the product, and only then consider guards and warnings against the hazard.  For instance, warning children that a toy has sharp edges and to play carefully would not effectively reduce injuries – but eliminating the sharp edges through redesign will allow the child to play freely with the product and avoid injury.  KID spends a lot of time working together with others to get to this goal with children's products.  However, some hazards can't be designed out – a saw for instance has to be sharp to cut.  But it can be designed with a guard that keeps fingers out of the range of the saw.  Finally, sometimes design changes cannot eliminate the hazard and warnings are used to alert the consumer and prevent injury. 
Jen Shecter of Consumer Reports gave a great example of a poor use of warnings later corrected by design – SUV's that roll over in sharp or sudden turns.  It really doesn't help the driver to know that if he or she swerves to miss a deer or another car, they might flip over – they still have to attempt to miss the obstacle.  A better solution is to add stability features to the car to reduce the likelihood of tipping.  The workshop focused on discussing the ways to move towards more design solutions as well as making guards and warnings as effective as possible. 
US Consumer Product Safety Commission (CPSC) Chairman Elliot Kaye addressed the group – answering a series of questions posed by the attendees.  CPSC also provided input on sleepwear regulations and age grading.  If a product is sold for general use, for children or as a toy plays an important role in what standards it must meet and which testing is done.  Panelists gave the group numerous examples to discuss and vote on. 
KID's participation in ICPHSO is an important part of our effort to promote the development of safer products – helping provide discussion of best practices and sharing examples of efforts that work in either improving safety or increasing recall effectiveness.  In planning the 2016 ICPHSO Symposium in DC, we are looking for great proposals for interactive sessions and engaging speakers to move product safety forward.  Got an idea?  Submit a proposal by the end of June.