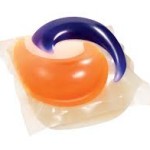 The safety of individual laundry packets is again in the news after Consumer Reports (CR) announced on Thursday, July 16 that they no longer can recommend laundry packets and urge households with children under the age of six to not buy them.
Since the introduction of liquid detergent packets in 2012, there have been just under 30,000 reported cases of child injury due to this product. The American Association of Poison Control reported that in 2014, there were 11,714 reported cases of child injury. So far, in 2015 there have been 6,000 cases of child injury reported in which CR states, "is a pace set to eclipse the 2014 total…"  
In response to the alarmingly high rates of child injuries due to this product and the severity of some of the injuries, including at least one death, attempts to increase the safety of this product are underway. In Europe, manufacturers are required to add an aversive (bitter taste) to the packets, increase the pressure it takes to "burst" the packet as well as decrease the dissolve rate in hopes to make it harder for children to become exposed to its contents.
ASTM International is working on a voluntary standard and votes are due on the current draft today (July 17).
 KID has been a part of ASTM's process for developing safety standards, more recently focusing on liquid packets. KID, along with Consumer Federation of America and others while supporting the progress, is still looking for additional measures. "This is no reflection on the tremendous amount of work and effort that has gone into getting to this draft standard, said Nancy Cowles, KID Executive Director, "[but] we believe more can be done to add layers of safety that will provide assurance to consumers that they will be able to keep their children safe with this product in the home."
Further, Rachel Weintraub, Legislative Director and general counsel at Consumer Federation of America states that, "while the draft standard for liquid detergent packets has made progress in addressing risks to consumers, it has not gone far enough." She further replies, "We hope that the standard will be improved to require child resistant packaging, effective packaging for individual laundry packets and provisions to minimize the attractiveness of these products to children. The consequences of exposure to these packets can be severe and we need strong multiple layers of protection to significantly reduce the hazards posed to consumers."
Strides have been made to increase children's safety related to laundry detergent packets, but there are still many steps that need to be taken to better ensure the future safety of our children. Stay in touch with KID though our Facebook page and Twitter to hear updates on the future of pods and other products that may put your child's safety at risk.