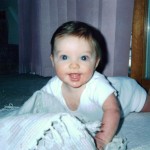 Jared was 8 months old when he was killed by his Evenflo Happy Camper portable crib. The side rail collapsed, causing him to become trapped and tragically strangled.
Today we highlight Jared's story (found here) and remember him as the beautifully happy and spirited baby boy that he was.
At least 19 children have died in collapsed portable cribs or play yards with rotating top-rail hinges. These portable cribs pose serious risks and can cause entrapment or suffocation. Jared's death led to the recall of the Happy Camper and fortunately, tough new standards for portable cribs and play yards have been established since then. However, products on the market that don't have a set standard may not be as safe and precautions should always be taken. While Danny's Law assured that portable cribs and many other products must meet tough standards, other products entering the marketplace might not. Jared's mother, Pam, expressed an important point: "I assumed like many other parents that children's products had to go through rigorous testing and follow stringent government safety standards. I also assumed that a product would not be sold if there were safety problems associated with it. I was shocked to learn that this is not the case."
Use the hashtag #FamilyVoicesFriday to share Jared's story as well as spread the word about the potential dangers of products that don't have strong standards. Stay tuned for more stories next week.