Ludo has been with KID all summer as part of a international student exchange program. Below, she details her experience with KID and what she gained as a result of this summer.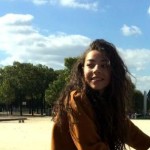 I had very positive feelings about KID since the first time I spoke on Skype with Nancy and Laura in the spring of 2015. These feelings made the decision to work and live in Chicago full-time this summer an easier one to make. Now, at the end of my two month internship, I can definitely say that I made the right choice.
I found at KID what I was hoping to find: a warm environment, amazing people and an efficient and meaningful organization. It was also a useful place to develop my professional skills.
This summer, I worked with Nancy on KID's first Crib Bumper Exchange project. In addition, I had the opportunity to go to Indianapolis with her to meet a State Legislator. I learned more about the US rule making processes. Lastly, I realized the importance of increasing people's awareness about dangerous children's products to avoid unnecessary death and injury to children. 
However, the most important thing I learned at KID is that you can never say "I did enough today" because you can always do more. But realize,  at the end of each day, you gave a small but extremely important contribution to save children from danger and parents from pain. Thanks KID for this wonderful experience.
To learn more about volunteering with KID, click here.