If it's September, it must be time for back to school! It's time slip out of swimsuits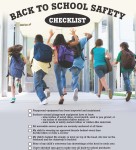 and into school uniforms and get ready for a new year of learning and growing. The Consumer Product Safety Commission has a great Back-to-School Safety Checklist. Here are a few highlights:
If your child will be biking to school – or biking elsewhere – make sure that he or she always wears a helmet and that the helmet is safely in place. If they are riding bikes, children should wear helmets specifically designed for bicycle riding. And while you are at it, check that bike for recalls — there have been several this summer.
Safety is also a consideration when choosing back-to-school clothes: it is important that none of your child's clothing have drawstrings at the hood or neck. These pose strangulation hazards, as the strings can snag on other objects. Waist drawstrings can also be dangerous: the CPSC recommends that they extend no more than three inches from the garment and be without toggles or other attachments. Check out the CPSC website for recent clothing and other recalls.
If your child is in pre-school or just starting kindergarten, take along KID's recall digest from the month and suggest the teacher sign up to get the digest herself.
Enjoy the start of a new school year and be safe!