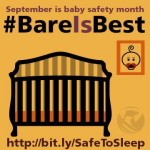 September is Baby Safety Month. It was originally named such by the Juvenile Products Manufacturer's Association as a campaign with retailers to focus on nursery products and safety.  But others now embrace the opportunity to talk safety with parents and caregivers.
This year, the US Consumer Product Safety Commission (CPSC) has adopted the hashtag #BareIsBest for their baby safety month social media.  All month long they are sharing messaging that helps parents create a safe sleep environment for their infants – in a safe crib, without any soft bedding such as comforters, bumper pads, or pillows, away from any cords or other hazards.
KID urges all families to check their own baby's sleeping area:
But during this Baby Safety Month we are also calling on manufacturers, retailers, advertisers and others to take additional safety steps:
Manufacturers: stop making padded crib bumper pads. They have been linked to suffocation AND confuse the safe sleep message that #BareIsBest.  Maryland and the City of Chicago have banned the sale of crib bumper pads.
Retailers: stop selling crib bumper pads and other devices that aren't part of a safe sleep environment. Don't decorate the cribs in your store with all manner of padded goodies – including bumpers.  Show parents that a bare crib can be beautiful – and safe.
Advertisers and media: don't show unsafe sleep environments. Every time a new or expecting parent sees a fully padded crib, it becomes more the norm – making it more likely they'll do the same – leading to a risk their child will suffocate.  Make a bare crib what parents want to emulate in their own nursery – you'll save lives.
Here's some great advice on what to show and not show for retailers, media and advertisers. Let's carry CPSC's Baby Safety Month message throughout the year: Bare is Best!