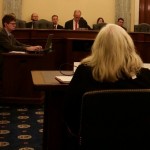 This past week, KID's Executive Director, Nancy Cowles spent a few days in West Conshohocken, PA and one in Washington DC.  In both places, she was making sure that the voices of parents and consumers were heard by policy makers and represented as KID works for new strong standards and continued protections.
ASTM International facilitates and publishes voluntary industry standards in many areas.  KID participates in committees on juvenile products, toys, furniture, and laundry packets.  Last week, both the juvenile product committees and the furniture committee met to move those standards forward.
Over two dozen sub-committees met – everything from infant bouncers to cribs; slings to strollers and so much more.  For the committees that cover products like cribs where there are mandatory standards required by Danny's Law, the meetings are a chance to look over new information on injuries or incidents and review changes to strengthen the standard or clarify testing methods.
Other committees are still working to address major hazards in their product class.  This includes work done on mattresses for cribs or play yards.  Mattresses that are too soft or do not fit correctly have caused infant suffocation and death.  The standard will help standardize dimensions and the committee reviewed performance requirements to prevent overly soft mattresses. There was much debate over supplemental mattresses sold for use with mesh sided pack and plays – something that standard warns against.  Babies have suffocated in the gap between an extra or too thick mattress and the mesh side.  KID supports a petition currently before CPSC to ban the sale of these non-compliant products.
At these meetings, I listen carefully and contribute insights on how consumers might use a product or why a warning might not be effective.  This results in stronger standards that when adopted by CPSC as mandatory standards have a big impact on safety.
I left the meetings at ASTM early to head to Washington DC where the Senate Commerce, Science and Transportation Committee's subcommittee on Consumer Protection, Product Safety, Insurance, and Data Security held a hearing on Consumer Product Safety and the Recall Process.  The chair invited KID to testify on our research and efforts to improve recall effectiveness.  CPSC Chairman Elliot Kaye and Commissioner Anne Marie Buerkle spoke first, followed by a panel including KID and industry representatives.  Chairman Kaye spoke of the need for industry to use the same tools they use to market products to retrieve them when there is a recall and spoke of his commitment to improve the rate at which consumers participate in recalls.
Senators and those on the panels cited KID's research showing that companies can account for only about 10% of recalled children's products – and only 4% of those already with consumers.  I spoke of the toll of recalled products on families and the efforts we believe will improve safety.  I asked the committee to review annually data on recall effectiveness to encourage improvement in companies' efforts to retrieve recalled products. Now, that information is hard to find and often withheld.  Sometimes a little sunshine on a problem will help light the way to better results.
As at ASTM, KID was a minority voice representing families and consumers.  Our work in standard setting and working with regulators and policymakers is key to KID's mission to keep children safe.  It does take time and expense, but is the only way we can be sure the children's product safety system continues to improve and that consumer and parent voices are heard in the rooms where decisions are made and action is taken.