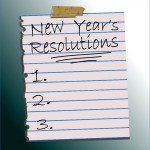 The New Year is a time to make resolutions to make this year better than the last. Although personal resolutions can be difficult to accomplish, we can all work to make 2016 a safer year with these 3 safety resolutions:
#

AnchorIt: 

Thousands of children are injured every year and one dies every three weeks from furniture and TV tip-overs. The US Consumer Product Safety Commission

(CPSC)

has launched their

 #AnchorIt Campaign

to reduce these numbers. This new year, keep your children safe by anchoring furniture to the wall or floor; place TVs on sturdy, low bases; keep TVs and/or cables cords out of reach of children; and keep items that may attract children off of TV stands or furniture

Get rid of that old crib: Five years ago, the CPSC adopted new rules and standards for cribs

and

portable cribs. ­

This new year, get rid of your old crib and insure that your new one meets the safety standards. Drop-side cribs are no longer manufactured or sold in stores; wood slats must be made of stronger wood to prevent breakage; all cribs must undergo rigorous testing for mattress support and durability; and crib hardware must have anti-loosening devices to keep it from falling off.

Register your products: 

Filling out a product registration card can save a life or prevent an injury. Product registration is the only way to be sure the manufacturer will contact you in the event of a recall. This New Year, as soon as you open the package of your new infant or toddler product, fill out the registration card and put it in the mail or register the product online. Find more information about product registration at

 https://kidsindanger.org/productregistration.
It is KID's resolution each year to keep children safe from dangerous children's product and improve product safety. You can stay up to date with product recalls and other information by following us on Facebook and Twitter or sign up for our newsletter and email alerts on our website. Add your voice to the call for safer children's products by joining the KID Action Team.
Have a happy and safe New Year!