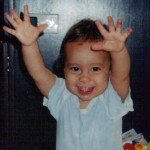 On December 31, Danny Keysar would have turned 19. However, a collapsing portable crib tragically took his life before he even reached two. In the years since his death, KID, founded by Danny's parents, has worked to further his legacy and ensure that other children do not fall prey to a flawed system, which too often allows poorly designed and inadequately tested products to reach the market.
The work we have done to change this system has only increased over the years since Danny's death. Danny's Law was passed in 2008 to ensure that products like the portable crib that killed Danny will never reach the market. KID has educated thousands of parents and caregivers on how to best protect their children from unsafe products. This past year, we also launched a petition to remove an Xfinity ad that depicted unsafe sleep, which was successful, thanks to your support.
In so many ways, KID has had such a huge impact on children's safety, and that impact will only continue to grow. In 2016, KID will reach even more families with our lifesaving message, speak out for children's safety, and work to increase the likelihood that all children's products are tested for safety before they are sold.
KID makes a difference with your support. Donate to KID before midnight on December 31, and Danny's parents, Linda Ginzel and Boaz Keysar, will match your donation up to $10,000.  If you are unable to donate, you can still help by sharing information about recalls and unsafe products with friends, family and colleagues, and report any unsafe products you come across to CPSC.
We thank you for the support you have offered KID and look forward to your continued support as we further Danny's legacy.