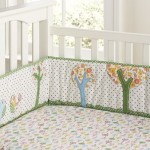 For years, KID has been advocating to ban the sale of crib bumper pads based on prior studies on the dangers of bumper pads and the safe sleep recommendations by the American Academy of Pediatrics. Now, a new study recently published in the Journal of Pediatrics is attributing a rise of infant deaths due to these products.  "Crib bumpers are dangerous and serve no purpose – they should never be used. None of the babies in this study should have died" said NJ Scheers, one of the study's authors.
We would like to take this opportunity to reiterate why bumper pads are not only unnecessary but dangerous, why they are still in use despite the warnings, and what legislation could do to help eliminate crib bumper pads and decrease deaths of our most vulnerable consumer- our children.
Why bumper pads are dangerous
Despite their sweet look, bumper pads have 3 significant hazards. First, because of their fluffy, bulky sides that surround the crib, they pose a suffocation and entrapment hazard to babies 1 year and under. Babies can get pressed up against this material and suffocate. Second, the strings and ties that connect the pads can get wrapped around a child's neck and strangle the child, or get caught in the child's mouth and a child could choke. Lastly, and this hazard applies to breathable bumpers as well, older babies can use the pad as leverage to climb out of the crib; poising a fall hazard. These hazards greatly outweigh any benefit bumper manufacturers could claim.
If they are so dangerous, why are we still using them?
One reason we are still using them is because we are still seeing them everywhere.  Go online and check out celebrity nurseries (like NBA star Stephen Curry's nursery) and they will almost always have bumper pads. Visit your local baby store and bumper pads are often included in the crib bedding set (like Pottery Barn Kids nursery bedding section) Turn on your TV, and you will eventually spot a crib with a bumper pad in it, like the Xfinity home alarm system commercial. Finally, parents mistakenly assume that if it's for sale, it must be safe. Sadly, these assumptions mixed with their prevalence in our everyday world make bumper pads more a part of our world than we might have assumed.
Here's what we can do to stop these products from hurting our children
The most effective and impactful action we can take is to ban the sale of bumpers. Currently, bumpers are illegal to buy or sell in Maryland and the city of Chicago. In addition, IKEA and Target have stopped selling bumpers in their stores nationwide. Despite these bans, parents and caregivers have many other alternatives to purchase bumpers; national legislation could change this. KID is currently working on this very issue with partners and allies committed to child safety. Join us by signing up for the KID Action Team and connect with other individuals who want to make child safety a priority. Here are some other simple actions you can take today to help keep babies safe from bumper pads:
Sign

KID's Xfinity petition

to remove dangerous infant bedding from their commercials.

Get the word out online by posting why you #saynotobumpers
Research is continuing to show what we already know, but the problem is getting worse. Join us in creating a fearless tomorrow for our babies by getting bumpers off of the shelves and out of our homes today.
UPDATE: Xfinity has agreed to remove this image from their ad rotation at the encouragement of KID and with your support! To read their letter, click here. 
For additional reading:
http://www.stltoday.com/news/local/metro/citing-multiple-deaths-study-calls-for-banning-crib-bumpers/article_786694df-d048-5fc3-9472-98f50261b1b0.html
http://www.npr.org/sections/health-shots/2015/11/25/457285189/to-reduce-infant-deaths-doctors-call-for-a-ban-of-crib-bumpers