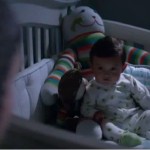 After a Change.org petition and a direct appeal from KID, Xfinity has agreed to remove an ad depicting unsafe sleep from broadcast. In a letter to KID, Xfinity stated, "We wish to express our appreciation to your organization for the very important work it undertakes… We certainly did not intend to portray a dangerous sleeping space within the crib depicted in the Xfinity commercial."
Xfinity's commercial spotlighted a baby in his crib filled with toys, pillows and a bumper pad, which are becoming illegal to buy and sell in different cities in the U.S. The images of a happy child in a dangerous crib can confuse caregivers and give the impression that what is dangerous is actually safe.
Child safety experts and government agencies across the country agree that crib bumper pads are at best a potential safety risk, and at worst, lethal to the babies they are meant to protect.
Crib bumpers pose hazards to children in three different ways. For babies under one year old, they pose a suffocation and entrapment hazard, for all children the strings and ties that connect the pads pose a strangulation and choking hazard, and for older children, the bumpers can give kids leverage to climb out of the crib posing a fall hazard.
KID is grateful that Xfinity has agreed to remove this ad from broadcast, helping to ensure that parents do not continue to get the wrong impression of bumper pads. To learn more about the reasons you should #saynotobumpers check out KID's most recent blog post on the topic here, and remember, both in the media and in your home, to decorate the nursery, not the crib.