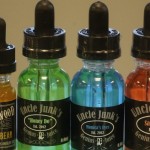 The House of Representatives approved the Child Nicotine Poisoning Prevention Act (S. 142)< on Monday, January 11. The bill, passed by the Senate in December, would direct the Consumer Product Safety Commission to require child-resistant packaging on the liquid nicotine containers used for e-cigarettes and other vaping devices. The legislation now moves to the President's desk to be signed in to law.
Many organizations worked on this bill, led by the American Academy of Pediatrics.  Consumers Union, Consumer Federation of America, and Kids in Danger issued the following joint statement:
"This legislation will go far to protect young children from the dangers of liquid nicotine. Just one teaspoon can be fatal to a child. And this safety threat only continues to grow as e-cigarettes and other vaping devices grow in popularity. We applaud Congresswoman Brooks and Congresswoman Esty for sponsoring the bill, Congresswoman Schakowsky for her leadership, and all the bill's proponents for their support. As reports of poisoning continue, we urge President Obama to sign this bill quickly to prevent more incidents and keep children safe."
We'll let you know when the bill is signed.