KID's efforts in 2015 led to real progress in product safety. Here are some highlights by month: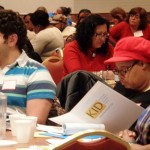 January: On January 16, KID PD Laura Nikolovska presented to over 250 professional childcare providers at the Chicago Commons Staff In-Service Day. We shared information on specific product risks, as well as advice on how to make spaces as safe for kids as possible, and provided safe sleep tips. We can do trainings for groups of any size that want our life-saving information. Contact us for more information.
February: This month, KID released a new report that showed recalls, injuries, and incidents are all on the decline. A key takeaway here is the relationship found between strong standards and decreased deaths. Despite these successes, we still need stronger systems in place for getting recalled products out of homes.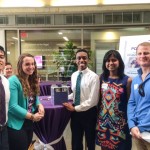 March: Northwestern University engineering students teamed up with KID's TEST program to identify innovative design solutions to common safety hazards that affect children. The teams focused on two different safety hazards this term- tip over hazards and laundry packet ingestion. Check out our blog for their ideas to address these hazards.  Interested in being a school partner?  Contact Nancy today.
April: Thanks to efforts by KID and other safety advocates, magnet sets are now illegal to sell in US. On April 23, the CPSC rule banning the sale of magnet sets in the US became effective. Read more about the hazards of magnet sets. Watch, share this video to let others know about the dangers too.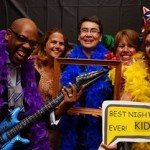 May: With a spectacular view from the 80th floor of Chicago's iconic Aon building, over 260 guests, friends and supporters of KID gathered at the Mid-America Club to celebrate and honor our 2015 Best Friend Award recipient, Barbara Guthrie. See pictures from the event here. Save the date for the 2016 BFA – May 18, 2016.
June: KID joins CPSC's #AnchorIt campaign as official partner to help reduce tip-over injuries and deaths. You can join us in spreading the word by sharing this video and forwarding this mother's story.  Read more about the campaign, how you can help, and tip-over safety tips at our blog.

July: KID published a study of pacifier incident and recall data published this month and the data shows that, even with a national safety standard, pacifiers are still associated with accidents to small children and infants. Read more about the study and how to keep kids safe here.
August: On August 17, KID, SIDS of Illinois, Everthrive of Illinois and other partners gave parents safe sleep products and information in exchange for dangerous crib bumper pads at KID's first ever bumper pad exchange in Humboldt Park. See the ABC 7 Chicago  video segment about the event. Interested in holding a bumper drive in your community? Contact us today.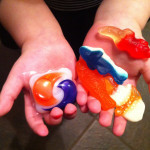 September: On September 15, a new safety standard was approved for liquid laundry packets. The goal of this new regulation is to decrease the number of children injured from the packets, which are often mistaken for candy or toys. KID and other safety advocates pushed for a standard and will continue to watch injury data to see if it should be strengthened.
October: This month KID ED Nancy Cowles had the opportunity to travel to ICPHSO's international conference on product safety and moderate a panel on child safety advocacy in Denmark. Panel speakers were from Germany, Iceland, Finland and the US.  Everything from a Child Safety House to interactive games were discussed. Read more here.
November: Nancy and Laura attended the 2015 MIPA summit in Madison, WI. The Midwest Injury Prevention Alliance (MIPA) is a group that allows KID to collaborate and connect with other injury prevention professionals in the region.  Read more about the annual summit and how you can get involved here.
December: Throughout the fall, KID urged parents and caregivers to sign KID's petition to remove dangerous bumper pads and soft bedding from the Xfinity commercial. Thanks to their efforts, Xfinity agreed to remove the commercial. Read more about this important victory for safety.
Stay connected to KID in 2016 for the latest safety news, updates, and ways to get involved.