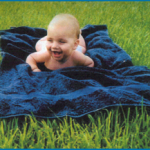 On December 12, 1997, 10 month-old Tyler Jonathan lost his life to a faulty drop-side crib. On the morning of December 12th, Tyler's mother found him with his neck caught between the side rail and headboard of his drop-side crib. Tyler's mother assumed the 10 month-old was safe in his crib because it was bought new from a high-end retailer and met CPSC standards at the time.
Tyler would have been 19 years-old today. This post is in memory of Tyler and to highlight the continuing efforts of his mother to ensure other parents do not suffer a similar loss. In 2011, CPSC voted unanimously to ban the sale, resale, and manufacturing of drop-side cribs. Unfortunately, in the 14 years between Tyler's death and the ban of drop-side cribs; dozens of more children lost their lives. Although drop-side cribs are now illegal, there are numerous other products that pose serious threats to children. Tyler's mother, Michele, continues to champion this issue by pushing for New York legislation that would require reporting to CPSC when a child dies from a product. This legislation would keep parents aware of the dangers of their seemingly safe products.
Additionally, Michele fights to keep children safe with the annual Project Safe Child Fundraiser & Walkathon in Wantagh, New York. The event is organized by Michele and Susan in honor of their sons, who both lost their lives in drop-side cribs. The event educates the public about the federal standards for child product safety while raising funds to support the work of KID.
Use the hashtag #FamilyVoicesFriday to share Tyler's story and bring awareness to the continuing efforts to improve child product safety.
To report an unsafe product, please visit SaferProducts.gov.
To check for product recalls, please visit: http://www.cpsc.gov/en/Recalls/