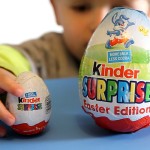 Since being with KID since 2012 I have been asked about certain products numerous times by parents and caregivers. One of these products is the Kinder Surprise egg, an Italian chocolate made by the Ferrero Company in the shape of an egg with a small toy inside. These haven't been legal to buy or sell in the US since 1938 due to the Food, Drug and Cosmetic Act which banned all candies embedded with "non-nutritive objects," such as toys. The Kinder eggs didn't even come on the market until the 1970's so they were banned based on this 1938 law (contrary to the popular belief that our "nanny" government created a more recent law to ban them). After doing a bit of research into this topic, it doesn't look like anyone is actively trying to change this law, so for now Kinder eggs continued to be banned in the US.
However, like many other products that have been deemed unsafe in the US, new products that claim to mitigate the hazards of the previous product enter the market and are available for purchase. One product I found very similar to the Kinder egg is called the Choco Treasure, which is described as "a chocolate egg with a toy surprise inside" Under their safety section of the website, they explain that their "eggs are safe for all children, not just children over three" because the toys inside their eggs are in a separate plastic capsule and the toys are too large to fit in the CPSC's small parts tester.  Generally, if an toy or another item fits into the small parts tester, it is a choking hazard for children under three years old. (This is why you will see "choking hazard" warnings on small toys and other warnings like "not for children under 3").
However, toys inside candy just seem like a bad idea – just like non-food items that look like candy (think laundry pods).   Visit any large supermarket or retailer this week and you will be bombarded with candy and toy options for Easter – making it unlikely that any child will be seriously missing out by not having a Kinder Surprise egg in his or her Easter basket.
Sources:
http://www.huffingtonpost.ca/2016/01/26/kinder-surprise-usa_n_9081286.html