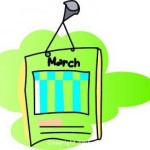 As usual, it's a busy week at the KID office. Here is a look at what's going on over the next 7 days…
All week: 2016 ICPHSO Annual Meeting and Symposium
KID ED Nancy Cowles is coordinating the annual conference held in Washington D.C. The theme of this year's conference is The Challenge of Change: Collaborating today for a Safer Tomorrow. The weeklong event brings product safety professionals together from across the globe and seeks to address current trends and best practices in product safety. Stay tuned for Nancy's reflections in next week's blog.
Saturday: Infant and Toddler Conference in Des Plaines, IL
The conference brings together parents and professional child care providers on Saturday March 5. The focus this year is on sharing best practices so infants and toddlers can thrive in the environments we create. KID Program Director Laura Nikolovska will be presenting KID's safety workshop Creating Safe Environments for Children twice at the conference.
Sunday: KID Young Professional Board fundraiser
Our Young Professional's Board is hosting the first KID fundraiser of the year at Revolution Brewpub in Logan Square, Chicago. Enjoy an afternoon of great food and drinks- and for a great cause!  If you are unable to attend, but would like to support KID, you can donate.