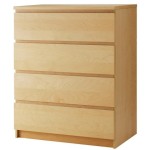 Late last month, we learned of another death involving the IKEA Malm dresser. A not-quite two-year-old boy in Minnesota was killed when his dresser toppled over on him. This was after a July 2015 non-recall announcement by IKEA and the US Consumer Product Safety Commission (CPSC) that two other children had been killed by Malm dressers and announcing efforts to distribute more safety straps to anyone who had any IKEA dressers. It did not include recalling or stopping the sale of the Malm dresser despite it not meeting current industry standards.
Now with the third death, CPSC and IKEA both give assurances they are working on a new plan. Because of the process at CPSC, this all takes place in secret, so we won't know what the new action entails until it is released. Consumer groups, including KID, sent a letter to CPSC asking to meet to express our concerns. CPSC quickly responded and the groups (KID, Consumer Federation of America and Consumers Union) along with the American Academy of Pediatrics and Lisa Siefert of Shane's Foundation met with CPSC Chairman Elliot Kaye, members of his staff, and other CPSC staff including Executive Director Patricia Adkins. Lisa and two other mothers featured in CPSC's award-winning video on preventing tip-over deaths had also sent a letter to the commission. At the meeting, Lisa helped underscore the importance of progress in this area, and shared a picture of her son Shane with the Chairman.
Chairman Kaye assured the group that generally there was "no daylight" between what the group asked for and what the Commission would like to see in regards to the recent Malm death. The letter asked for an action labeled as a recall that removed the dangerous Malm dressers from sale and offered refunds to owners who currently had the dresser. We also wanted to see additional incentives to IKEA dresser owners to install the anchoring strap IKEA supplied. One option might be a gift card for those posting or sending in pictures of their units anchored in place.
The groups discussed the larger issues as well including work on strengthening the current industry voluntary standard (through ASTM International) and the possibility of a mandatory standard. CPSC staff is critical in providing information, expertise and momentum to the voluntary process that often moves at a glacial pace. For instance at the last meeting, taking place after the recent death, the sub-committee, led by the American Home Furnishings Association, didn't move any substantive items forward despite work in smaller task groups that provided action items.
KID will continue to press for progress in this area. We are working on many fronts – from the voluntary standard proceedings, work with CPSC and through our TEST program, encouraging future engineers to come up with innovative designs that are less likely to tip – with or without a strap. We urge families to #AnchorIt and demand furniture that won't tip under the weight of a two year old.  We keep Shane and his family and all victims of furniture tip-over in our thoughts while we work to keep children safe.