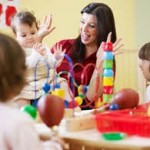 This week we will celebrate National Child Care Provider Appreciation Day. In honor of the great work that child care providers are doing around the nation to keep our children happy, healthy and safe, we'd like to share a few safety tips and resources for providers and parents to use to keep children out of harm's way.
Recalls
Tip Overs

There has been a lot of news lately about the dangers of furniture tip overs pose to young children. To avoid placing your child in harm's way, make sure to anchor all furniture and TVs to the wall—preventing it from tipping over.
If you have not done this yet, you can purchase wall anchoring kits at any electronics or children's store or online. This inexpensive safety device could save a child's life. And if you have furniture that tips, report it to SaferProducts.gov – it may not meet current standards. Learn more at AnchorIt.gov

Safe Sleep

To ensure that your child is sleeping safely, make sure your crib was manufactured after June 28, 2011 (when new crib safety laws went into effect).
Also, remember the ABCs of safe sleep—Alone, Back, and C Your baby should always sleep alone—avoid soft bedding and accessories such as bumper pads. Babies should always sleep on their back and in a crib.
For more information on child product safety and to keep up with recent recalls and safety news, please visit KidsInDanger.org.