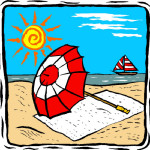 Memorial Day weekend is here and that means not only the unofficial start of summer, but also that millions of families will be hitting the roads for weekend getaways. At KID, we want to make your holiday travels a little safer when on the road with children and infants. Remember:  the same safety precautions you follow at home also apply when traveling. Here are 3 things to check before you hit the road:
Car Safety: Double-check that your car seat has not been recalled by visiting NHSTA and go to SafeKids.org to make sure you are using the right seat.
Safe Sleep: Even on the road, use the ABC's of safe sleep to make sure your baby is safely sleeping through the night. Your baby should sleep alone (no bumpers, toys or loose bedding), on their back, and in a crib. Make sure your crib meets the most current federal safety standards.
Product Safety: When packing toys for those long rides, read the labels to make sure they are age appropriate for all of your children. Keep an eye out if your child gets a hold of a toy that's not meant for them, especially small magnets/parts than can cause a choking/ingestion hazard.
KID wants to be your safety resource wherever you go. Check out our Facebook and Twitter to stay up-to-date on the latest recall and safety information. You can also access KidsInDanger.org through your mobile phone and check recalls on the go.