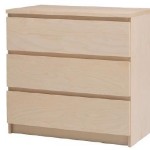 Today, the Consumer Product Safety Commission (CPSC) and IKEA announced the recall of 29 million IKEA Malm dressers responsible for the deaths of three toddlers in tip-over incidents.
KID joined The American Academy of Pediatrics, Consumers Union, Consumer Federation of America, Public Citizen, The National Center for Health Research, and Shane's Foundation in issuing the following joint statement:
"This recall is critically important to protect children and prevent future injuries and deaths caused by these dangerous IKEA dressers. While we wish that this safety hazard had been addressed sooner to protect young lives, we're pleased that this recall will stop the sale of these dressers and give consumers options for a refund or the assistance to make these products safer by anchoring them to the wall. This recall is significant — involving 29 million products and exceptional remedies available to consumers. We commend staff at the CPSC for their hard work to secure a recall that also commits IKEA to designing and selling furniture that meets safety standards going forward. IKEA must now pull out all the stops and do everything it can to ensure consumers know about the recall, are aware of their options, and can easily take action to make their homes safer. We urge consumers to take the steps to remove or repair these dressers, and minimize all furniture and appliance tip-over hazards in their homes."
Earlier this year, the groups sent letters to CPSC Chairman Elliot Kaye, calling on the safety agency to take strong, immediate action to better protect children from the tip-over hazard of certain IKEA Malm dressers. See the Consumer letter here and the letter from Shane's Foundation and two other moms here. The letter followed a Philadelphia Inquirer report of the February death of a 22-month-old boy in Apple Valley, Minnesota, who died when the Malm dresser in his room tipped over on him. His death was the third confirmed tip-over death from IKEA Malm dressers.
If you have the MALM dresser, please click here for directions about anchoring the dresser, returning the dresser, or obtaining a refund.