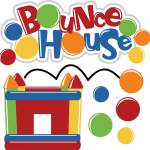 The weather is warming up, school is ending, and summer is on its way! As families prepare for months of summer fun, KID wants to give you a few tips for a fun and safe summer.
One of the largest attractions of the summer are bounce houses. The inflatable attractions are present at almost every block party, festival, and fair. It's hard for children (and adults) to resist jumping in bounce houses. However, a recent bounce house death has raised concerned about the attractions. A 7 year-old girl was killed in England after the bouncy castle was in blew away. Additionally, there were 2 reports of similar incidences of a bouncy house blowing away in May; luckily no one was killed in either incidence. Bounce houses can be a bunch of fun, but unfortunately, they also pose a serious threat to children.
The recent incidences of bounce houses deflating and flying away has prompted a response from CPSC and ASTM. Some companies use a device called a "watchdog blower siren" that sends out a screeching sound when the inflatable is deflating.  This sort of technology has been around for years, but is not widely used. The U.S. CPSC and ASTM are recommending that devices that alert about a deflation become mandatory.
Given the potential danger, KID recommends other summer activities in lieu of bounce houses; but if you are going to use them follow these safety tips to ensure a safe and fun time for your child.
Wind is the worst enemy of an inflatable. It is recommended that children be removed from bounce houses when the winds are 20 to 25 miles per hour or higher.
Make sure the operator is present at the bounce house and monitoring what is happening inside.
Ask the operator to see the company's insurance policy and state inspections.
Following these tips will go a long way in helping make bounce houses both fun and safe for children and parents alike.
For more information on child product safety and to keep up with recent recalls and safety news, please visit KidsInDanger.org.