According to an American Academy of Pediatrics study released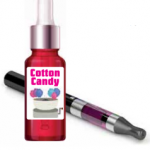 in March of 2016, exposures to e-cigarettes and nicotine liquid among young children rapidly increased between 2012 and 2015. In that time, the National Poison Data System received over 29,000 calls for nicotine and tobacco product exposures for kids under the age of six. Of these incidents, children exposed to e-cigarettes were 5.2 times more likely to be admitted to a health care facility and 2.6 times more likely to experience a severe consequence than kids exposed to cigarettes. Liquid nicotine is dangerous because it is a quickly absorbed toxin that can be taken in via the skin as well as ingested. Tragically, one child even died in an incident associated with nicotine liquid exposure.
A major reason for the increase in liquid nicotine poisonings is that these products were not required to be in childproof containers. Given e-cigarettes' increasingly ubiquitous popularity and liquid nicotine's kid-appealing flavors and colors (ranging from candy to fruit flavored), these products posed a serious hazard to young children. In this year alone, from January 2016 to June 2016, the American Association of Poison Control Centers already received 901 exposure reports.
Thankfully, we can now applaud and celebrate the U.S. Consumer Product Safety Commission's (CPSC) enforcement of new liquid nicotine packaging requirements that go into effect today, July 26, 2016. From now on, liquid nicotine—no matter how it is sold, distributed, or imported—must be contained in "special packaging" as defined by the Poison Prevention Packaging Act (PPPA). This includes existing inventory, newly manufactured product, and imported products. These new packaging requirements derive from Congress's passage of the Child Nicotine Poisoning Prevention Act of 2015 earlier this January, which requires liquid nicotine to meet strict standards in terms of child-safe packaging. If you see liquid nicotine sold in non-child resistant packaging, report it at saferproducts.gov.
"This is such a common sense thing. Requiring child resistant containers for liquid nicotine will protect kids. I am so glad Congress could come together to give the CPSC the power to do the right thing."
–Kyran Quinlan, MD, MPH, FAAP.  Dr. Quinlan practices and teaches at Rush University Medical Center in Chicago and is a KID board member as well as Chair of the AAP Council on Injury, Violence and Poison Prevention Executive Committee.