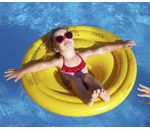 With summer officially underway, families are heading to the pool to cool down and beat the summer heat. Obviously, parent and caregiver supervision at the pool is a must, but there are some very real hidden pool dangers that even an attentive caregiver can miss. We asked Ellyn Pollack from the Consumer Product Safety Commission (CPSC) to identify some pool dangers and offer some safe solutions for parents and caregivers. 
Question: A lot of people think pool safety all comes down to supervision. Can you explain why it's more than that?
Answer: Drowning is the number one cause of unintentional death among children ages 1-4. It happens quickly and is often silent – it's not like in the movies, where children are portrayed as splashing and yelling for help. Drownings are 100 percent preventable, but to prevent these tragedies, it is important to install layers of protection to keep their families safer around the water: watch children at all times in and around water, teach children how to swim, learn CPR and first aid, and ensure that drain covers are safe.
Supervision is a very important layer of protection. Watch children every time they are in or around the water. Designate a Water Watcher – this is an adult whose only job is to watch children when they are in the pool. This person should not be distracted by texting, phone calls or a smartphone.
Question: We are hearing a lot about the injuries and even death that can result from certain pool drains. Can you describe the difference between a good and bad drain so parents know what to look out for at the pool?
Answer: Anti-entrapment drain covers are very important. The suction on a drain that does not have a proper cover can be so powerful that even several adults may not be able to pull a child off the drain.
Whether you are swimming in your home pool or visiting a public pool, be sure that the drain covers are not lose or broken. Drain covers should be anti-entrapment "VGB compliant," meaning they comply with the latest safety laws and guidelines. While these types of covers are mandated by federal law for public pools, private pools should have them as well. If you're not sure if the drain covers in the pool you're using are safe, be sure and ask prior to using the pool. Regardless, children should be taught to stay away from all pool and spa drains and filters.
Question: We often tell parents and caregivers to not rely on flotation devices for safety while kids are swimming. Can you explain some of the safety issues with flotation devices?
Answer: Flotation devices are dangerous because they give a false sense of security to both children and parents. Children, especially non-swimmers, should only wear Coast Guard approved flotation devices while in or near the water. Even those are not a substitute for supervision – an adult should always be within arm's reach of children while in or near the water.
Question: Are there any new safety hazards that you are seeing in recent years regarding children's pool safety ?
Answer: Unfortunately, many fatal drownings happen during pool parties or gatherings when everyone thinks someone is watching the kids in the water, but, in reality, no one is watching. This is why designating a Water Watcher is so important.
We are also seeing an increasing number of incidents involving portable or above-ground pools. It is important that these pools be treated with the same safety methods as a traditional in-ground pool. They should be surrounded by a four-sided fence and larger pools should be covered, with the ladder removed when they are not in use. Small, blow-up type pools should be emptied and put away or flipped over after every use.
Question: Overall, what is the best safety advice you can give parents and caregivers while they are at the pool this summer with their kids to keep them safe?
Answer: Families should ensure they are following the simple safety steps mentioned above when they are in and around the water this summer – watch children at all times when they are in or near the water, teach children how to swim, learn CPR, and ensure that drain covers are safe.
Adults and kids should take the Pool Safely Pledge before heading to the pool, which is a call-to-action reminder of how to stay safe around water. In addition, there are a number of resources on the newly designed PoolSafely.gov to help parents teach their kids about water safety, including the Pool Safely Song by children's performer Laurie Berkner and a smartphone app available for free download in the iTunes and Google Play stores.