After six children lost their lives and other children were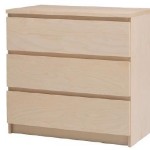 seriously injured, IKEA finally issued a recall of millions of their MALM and other models of chests and dressers in the U.S. and Canada. The CPSC urges consumers to contact IKEA for a full refund and to properly anchor all furniture to prevent tip over. KID applauded IKEA's voluntary recall efforts, yet pointed to the importance of designing products for children and their homes that are safe from the start.
Indeed, the issue still looms that furniture and other products are often designed for function to the exclusion of children's safety. The unfortunate reality is that hazardous products reach consumers when engineers do not ask important safety questions—such as, how will these products be used? What will occur in the case of foreseeable misuse? Who might be in contact with these products? How might that change their usage and safety? Moreover, while parents, grandparents, and other caregivers do have the option of securely anchoring products with straps to walls, the overwhelmingly majority of consumers do not anchor furniture products, expecting products to already be safe and/or seeing anchoring as a hassle.
As a result, CPSC has found that this alarming problem of falling furniture and appliances accounted for at least 363 fatalities in America from 2000 through 2011 and over 38,000 emergency room-treated injuries annually. The victims of these incidents are overwhelmingly children, with 82% of fatality victims being under 8 years of age and 57% of injuries occurring to those under 18. Of household items that pose a threat of tip-over such as TVs and large electronics, the biggest culprits are chests, bureaus, and dressers. These pieces of furniture can cause horrific injuries and deaths for children even with the most vigilant parents and caretakers, as children can be rapidly crushed, struck, and/or asphyxiated under the heavy furniture.
In response to these issues, KID addresses the problem at its root: bringing awareness to engineers about the special considerations needed for children's safety and thereby improving product safety through education and design. Just this past March, KID partnered with senior engineering students at the University of Michigan to address furniture tip-overs, as part of our innovative educational program, Teach Early Safety Testing (TEST).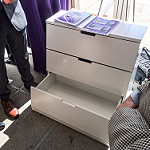 After previously having teamed up with Northwestern University engineering students in March 2015 to address tip-over issues in dressers without using on wall attachments, KID worked with the University of Michigan engineering students to create a children's dresser built to withstand the weight of up to a 75lb child and not tip-over from applied pressure. This prototype also had protective front doors to catch the dresser if it begins to tip as well as a space for weights in the back of the dresser to further ground it. Even its drawers were designed to prevent injury, as they cannot be removed by a child's weight or horizontal pulling pressure. This project, along with many others, is just one of the ways in which KID is rethinking children's product safety and eliminating potential dangers from the start. For more, check out the video below!
To learn more about KID's other TEST initiatives, check out our Flickr and YouTube accounts.