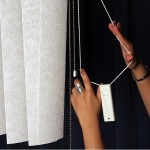 On June 16, 2015, a U.K. mother, Stacey Clarke, put her 18-month-old daughter, Tianna Mooney, to bed as usual, laying her down in her cot by the window. This window had vertical blinds, two of which were missing–a hole that little Tianna enjoyed peering out of each day before falling asleep. Less than an hour after Tianna had been put down for her nap that day, her mother returned to find her hanging lifeless from the cords on her window blinds. Over a year later, assistant-coroner David James released a statement remarking that he was "astounded" to find how many children have died similarly.
His comments have sparked renewed attention to the hazards of window coverings and the hashtag #GoCordless on Twitter. The #GoCordless campaign focuses on discontinuing the use of window coverings that use cords and the creation of legislation to ban the production of such window coverings.  In light of the issue, we offer you these safety considerations on window blinds:
Almost every month, a child strangles to death in window cords.
Since 1986, there have been 571 reported cases of child strangulation due to window cords in the U.S. Forty-nine percent of cases go unreported.
Parents may think their children are safe from this hazard, but simply tying cords or keeping them "out of reach" is not enough.
Window blind cords are silent killers, because they cut off oxygen for the child, making them unable to make noise. Sometimes death can occur even with a caregiver in the room.
It takes less than a minute to suffocate a child to death. Even if a child is saved from death, they can face lifelong disabilities due to the debilitating physical and neurological effects of asphyxiation.
To reduce window blind cords hazards in your household, KID recommends the following approach:
Always use cordless window coverings in your home. Click here to view safe options.
If visiting a hotel or a home with corded window blinds, ensure cords are out of children's reach–even a 7.25 inch string is long enough to strangle a child. But, stay vigilant: even a cord that is up high and coiled up can be reached by a determined child
To learn more about the dangers associated with window blind cords, visit the Parents for Window Blind Safety's informative webpage.
Also, check out Parents for Window Blind Safety's videos on window blind safety, covering both the dangers and solutions: https://www.youtube.com/embed/CrzbFC96Des.