These days, it often feels like we just can't escape discussion of the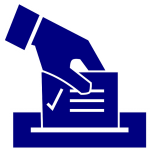 upcoming election. Even when we feel weary of the political chatter, we can't lose sight of how this election will impact children's future health and wellness. From a children's product safety standpoint, we need to consider how the new president, and his or her administration, will work to enforce and develop product safety standards and keep children safe.
Earlier this week, the American Academy of Pediatrics (AAP) released their report: Blueprint for Children: How the Next President Can Build a Foundation for a Healthy Future. The report covers a range of issues related to childhood health and safety, and includes a section (pp. 46-48) on emerging issues for the U.S. Consumer Product Safety Commission (CPSC) and children's product safety. KID wants to dive into the AAP's recommendations and keep you up to date on how this election can and will shape your children's safety.
Crib Safety: Safe sleep is perhaps the central safety issue facing infants and young children. In 2011, the CPSC took steps toward safe sleep and banned drop-side cribs. Today, one of the largest barriers to safe sleep are crib bumper pads. These products are both dangerous and unnecessary – they pose a risk of suffocation and strangulation to infants. The AAP recommends: "Crib bumpers have no place in a safe sleep environment and it is past time for the CPSC to strength its safe sleep messaging by banning this product… The lack of a CPSC ban on crib bumpers sends a mixed signal to caregivers, and should be rectified immediately." For more information on crib safety and crib bumper pads, visit our website.
Liquid Nicotine: Liquid nicotine refills for e-cigarettes often come packaged in bright colors and in flavors like 'Caramel Apple' and 'Cherry Cola' that are appealing to children. As liquid nicotine use grows, children across the country are drawn to these products. When the highly toxic substance is ingested or absorbed through the skin it can cause serious or even fatal injuries. According to the AAP: "The Child Nicotine Poisoning Prevention Act directed the CPSC to implement a regulation requiring child-resistant packaging on liquid nicotine refill containers, and the CPSC put this requirement into effect in July 2016. The CPSC must fully implement and robustly enforce this safety packaging requirement." Read more here.
Laundry Detergent Packets: Similarly to liquid nicotine refills, laundry detergent packets are often brightly-colored and attractive to small children. These products are increasing in popularity among consumers. In 2016 (through August 31) poison centers have received nearly 8,000 reports of exposure to the packets by children younger than five. These highly-concentrated amounts of detergent can result in hospitalization and serious injury if ingested. The AAP recommends: "CPSC must enact strong standards on laundry package safety to prevent child poisonings… The CPSC should create a mandatory standard to make these packets child-resistant, as it has with many other hazardous cleaning materials." Read more here.

Window Blind Cords: Window blind cords frequently pose a strangulation hazard when they are present near an infant or young child's sleep or play environment. Children can grab onto the cords and easily become entangled. Unlike liquid nicotine and laundry detergent packets, window blind cords have been a safety issue for decades. According to the AAP: "Voluntary standards have failed to effectively address this issue for nearly 20 years. For this reason, a mandatory standard that prohibits accessible window covering cords is the only way to ensure that children are protected from this avoidable hazard in all homes." KID would like to see cordless window covers become the new norm. Read more here.
The next administration will greatly impact children's safety around these emerging and persistent issues. Keep them in mind as you cast your vote in November!