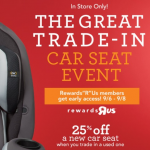 It's that time of year again – the Toys"R"Us Great Trade In: Car Seat Event is upon us. This event is always a favorite, and for good reason! As we all know, car seats are a must-have safety item for all young children. Unfortunately, it can be difficult to know if the car seat you're buying is the right one for your child's age and size, and they can be expensive. This trade-in event allows you ensure your child is riding in the safest car seat possible, while taking advantage of savings on this necessary item.
Toys"R"Us uses this event to promote car seat safety. Their goal is to educate customers about when and how to transition growing children to a new type of car seat. They also hope to alert customers to the potential hazards of using used car seats that may have been recalled, damaged in a previous crash, or older models that are no longer compliant with today's national safety standards. Any car seat that has been recalled, damaged, or only complies with outdated safety standards no longer protects children from injury or death during a crash.
This trade-in event works by allowing you to bring in your old, used car seats in exchange for savings on new car seats from Toys"R"Us. Here's what you need to know:
Get 25% off a new car seat when you trade in a used one
Even if you don't have a used car seat to trade in, you can get 15% off any infant, convertible, or booster car seat with a coupon in stores or by using the code SEP15OFF online
Toys"R"Us properly disposes of used car seats to ensure they won't be put back into circulation
The deal runs from September 9 to October 2, 2016
Check out the Toys"R"Us website for more details on the trade-in event.
Customers or caregivers looking for more information about car seat recalls, in particular, can contact the National Highway Traffic Safety Administration (NHTSA) through its Car Seat Hotline at 800/424-9393. Replacement and repair of recalled products is free. To check the recall status, you will need the name, model number, and date of manufacture of your car seat (this information is usually printed on a sticker on the side or bottom of the car seat). For an introduction to car seat safety concerns, check out the KID's overview on the topic.