T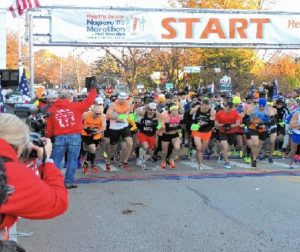 his Sunday marks the fourth annual Healthy Driven Naperville Marathon and Half Marathon, and members of the KID Running Team will be running to support KID. Each runner has set a goal of raising $200 to help promote the development of safer children's products, advocate for children and educate the public about dangerous children's products. The marathon course will take runners from downtown Naperville through streets and forest preserves.
If you're in the area, come say hello to KID at the Charity Village! We'll be supporting our runners and volunteers and offering KID info to spectators. The city of Naperville will be hosting a post-race celebration at local restaurants and bars.
KID is so grateful for our runners' efforts, and we're excited to cheer them on this weekend!  In the past few years, the Running Team has raised over $25,000 for KID. To learn more and support the KID Running Team, click here.