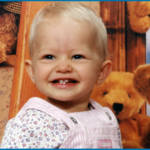 In December of 2002, 13 month-old Ellie lost her life when the changing table attachment on her play yard fell on her. This post is dedicated to Ellie, who would have been 15 years old today. KID wants to honor her family's strength and to highlight that unsafe, inadequately tested products continue to pose deadly consequences to our children.
Ellie's play yard had no locking mechanism on its changing table attachment. When the changing table came down on the back of Ellie's neck, trapping her head between the attachment and the side rail of the play yard, she suffocated within minutes. Ellie wasn't the only child who became the victim of an unsafe play yard – between November 2007 and December 2011, the CPSC received 2,100 reports of incidents involving play yards, including 60 deaths and 170 injuries. In 2012, the CPSC finally approved new federal mandatory safety standards for play yards, including latch and lock mechanisms and entrapments tests. These standards would have saved Ellie's life.
Ellie's mother, Lisa, helped us honor her daughter's birthday today by sharing her reflections: "Ellie would be 15 today.  Not a day slips by that I don't picture that soft smile and mischievous giggle.  She was so smart and she knew it.  It's hard to imagine what she'd be like as a teenager.  I think she'll be my forever little toddler.  I am so grateful to Kids in Danger for all they have done and continue to do on keeping children safe. Nobody should ever have to suffer this kind of nightmare."
Like many parents, Ellie's parents Lisa and Tom trusted that products they saw in stores were safe. Unfortunately, what looked fun, convenient, and safe on display turned out to be deadly. Because of inadequate safety testing and limited mandatory standards, products like the Graco play yard that killed Ellie entered the market and made their way into homes.
KID encourages parents and caregivers to research products before they purchase them. Some ways to start:
KID will continue to fight for stronger standards that will prevent tragedies like the one that took Ellie away from her loving family much too soon.
Read more about Ellie's story here and check out KID's website for more family stories, tips for protecting your child, and more!