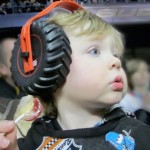 KID is always working to expand the resources we offer and to amplify the voices of families affected by product hazards. In today's blog post, we'd like to highlight two recent and important additions to the KID site.
The first is the addition of Shane Siefert to our collection of Family Voices. Shane was a vibrant, energetic, and loving two-year-old. On March 14, 2011, Shane's mother, Lisa, put him down for a nap and told him she loved him; he said "love you" back before she closed the door. When she came to wake Shane up, she found that he had been killed by an overturned dresser. Shane had attempted to climb the dresser in his room, which tipped over under the added weight. After her family's tragic loss, Lisa created Shane's Foundation in 2012 to educate parents about the dangers of falling furniture and advocate for children's safety. In August of 2016, KID and Shane's Foundation collaborated to publish a report on this issue: Furniture Stability: A review of data and testing.
In order to honor the work of Shane's Foundation and educate the public about this hazard, we have created a new Product Hazard page dedicated to Furniture Safety. The US Consumer Product Safety Commission (CPSC) reports that in the US, a child is sent to the emergency room every 24 minutes as a result of falling furniture. There is currently no mandatory federal standard for furniture stability, and even short furniture is at risk of tipping over. To keep your home as safe as possible, KID recommends:
Buy furniture with a wider base, heavier back panel, and/or interlocking drawers
Buy furniture that meets ASTM F2057-14 standard, a voluntary standard regarding furniture stability
Do not put a TV on furniture that is not intended for that use
Keep TV cables and cords out of reach
Keep objects such as toys and remote controls off of furniture so that children will not be tempted to climb up
Please take a moment to look over these additions to our site and share this important information with your family, friends, and colleagues. KID and Shane's Foundation know that there is still much work to be done on this issue, and we won't stop fighting on behalf of families.
Stay tuned for updates from KID Executive Director Nancy Cowles as she reports from the ASTM Furniture Safety meeting taking place today.