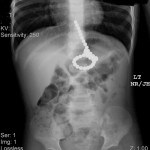 This holiday season, friends and family members will be searching for the perfect gift. It can be difficult to navigate the crowded stores and make decisions about which gifts will be the absolute best fit.
At KID, our mission is to inform everyone about the risks and dangers of various products. This holiday season we want to reemphasize two products that have proven to be very dangerous for young children.
Button Batteries
Button batteries are especially dangerous because of their small size and how widely available they are – so many products come with button batteries. In the last two years, there were 3,100 incidents of button battery ingestion, and 1,900 of those incidents involved children. Included in these numbers were 20 fatal or serious cases.
Coin cell batteries are the most likely to cause injury. These batteries are small and easy for a child to accidentally ingest. They can be found in remote controls, lights and flameless candles, games and toys, bathroom scales, watches, key fobs, digital thermometers, 3-D glasses, holiday greeting cards, and Christmas ornaments – just to name a few. If ingested, batteries can get stuck in children's throats and can lead to poisoning, chemical burns and other serious medical complications.
Companies have made safety improvements by making packaging of these products child-resistant. However, as the holidays come, consumers' should still be aware of these hazards. Button batteries, and products that contain them, should be stored out of reach of children. Avoid changing the battery in front of young children.
Magnet Sets
High-powered magnet first emerged as an ingestion hazard over a decade ago. Toy standards were updated to prevent their use in toys, but they still show up in magnet sets – up to hundreds of BB-sized magnets. These products, with name brands such as Buckyballs, pose a serious ingestion hazard. If a child ingests more than one of these tiny magnets, it can result in serious injuries including: small holes in the stomach and intestines, intestinal blockage, blood poisoning, or death. These injuries often require surgery to repair, but they are difficult to diagnose – caregivers and health professionals may not suspect magnet ingestion when symptoms present. In 2014, the CPSC voted to ban these magnet sets, preventing countless injuries and deaths. Unfortunately, a Colorado court recently overturned the ban, and these products are back on the market.
Regardless of this new development, we strongly recommend against purchasing these magnets. Even with constant supervision, accidents can and will still happen. Young children often mistake these toys for candies or use them as pretend piercings. We encourage all gift-givers to stay clear of high-powered magnets sets.