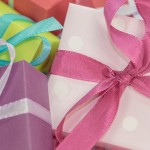 The Holidays are officially upon us! As you celebrate this special time with your loved ones, make sure safety stays a priority. December is Safe Toys and Gifts Month, and in order to celebrate, we have pulled together some helpful tips on how to give safely this holiday season:
When in doubt, use the toilet paper roll test: If a toy, or any small, breakable parts, can fit inside a toilet paper cardboard tube, it is too small for children under three.
Keep high powered magnet sets such as Zen Magnets and BuckyBalls away from children. These magnets are a serious ingestion hazard – they can cause severe internal damage and often require surgery to remove. Even though the court ban on these products was recently overturned, keep magnet sets off your holiday lists.
Discard all broken balloons immediately, and keep deflated balloons away from all children under 8 years old.
Include safety gear with gifts, such as correctly-sized helmets for children. Ensure helmets are used every time while biking, skateboarding, or riding a scooter.
If you are gifting cribs, play yards, or bassinets to any new or expecting parents, choose newer models that meet current safety standards. Keep excess bedding such as pillows, blankets, or crib bumper pads off your list #BareIsBest.
Ensure that toys do not have hazards such as loose parts, broken pieces or sharp edges, and discard any weak or broken toys.
Follow age recommendations on products. Those guidelines are usually for safety reasons.
Use the product safety database at SaferProducts.gov to research and report incidents on products,
For more information, visit our Product Hazard page on toys. You can also follow our blog to stay up-to-date on the latest recalls and toy dangers. Be sure to check our monthly recall digests, where we pull together all of the recalls from the past month so they are easy to catch up on.
Observe Safe Toys and Gifts Month by following these tips and always checking SaferProducts.gov before shopping! Remember, the best gift you can give is the gift of safety. Happy Holidays!