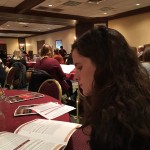 On December 1st and 2nd, KID's Executive Director, Nancy Cowles, and I travelled to Pewaukee, Wisconsin for the annual Midwest Injury Prevention Alliance (MIPA) Summit. The MIPA Summit brings together injury prevention professionals from across the Midwest to connect with one another and share ideas, challenges, and successes.
Over the course of those two days, we had the option to attend panel presentations on topics such as safe sleep, data driven advocacy, and engaging partners through social media. We also heard from three Key Note Speakers on the topics of violence prevention as a public health effort, the impact of racial and gendered trauma on health, and uncertainty about how the new presidential administration will impact injury prevention efforts.
Here's a little bit of what KID got up to during the Summit:
Thursday 5:30pm: Lisa Siefert from Shane's Foundation and I presented our furniture research at an evening reception and poster session. The poster session provided an opportunity to discuss the details of our research one-on-one with those who were interested.
Friday 7:30am: Prior to the Summit, I took on the role of the chair of the Child Injury Prevention subcommittee. The group met for the first time in a few months over breakfast and coffee in order to get acquainted and discuss our goals for the group going forward. It was exciting to discover similarities in our experiences and brainstorm ideas for future collaboration.
Friday 10:30am: Nancy, Lisa, and Kim Dulic, a representative from the CPSC, presented in a panel session on the danger of furniture tip-overs, progress that has been made, and next steps for the #AnchorIt campaign. Lisa personalized the data by discussing the death of her son, Shane, while Nancy and Kim discussing ongoing prevention and advocacy work, as well as potential changes to the furniture standard.
As I reflect on my first MIPA Summit, I find that the most valuable part of the experience was the opportunity to connect with such a fantastic group of people who are all working towards the same goal – a safer and healthier world. I tried to take in and absorb as much as I could, which also helped me place KID's work into the larger context of injury prevention work in the region. I look forward to taking full advantage of the connections I formed throughout my time at KID.
Carson Gaffney
KID Program Associate