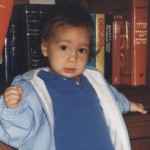 In 1998, 16-month-old Danny Keysar was killed when a portable crib collapsed on his neck while he was napping in his childcare home. He would have turned 20 this December 31st.
Danny's parents, Linda Ginzel and Boaz Keysar, founded Kids In Danger (KID) to advocate for children's product safety so that no family would suffer the same loss. We are so proud of all that has been accomplished in the years since KID's founding. We have achieved unbelievable milestones that have made a huge difference for children's safety.
In the past year alone: KID went on the Dr. Oz Show to discuss the dangers of crib bumpers, provided testimony to the US Senate Sub-Committee meeting on Consumer Product Safety and the Recall Process, and published ground-breaking research on tip-overs in our Furniture Report. Additionally, our 2016 Recall Report showed that the number of children's products recalled in 2015 (just over 5.5 million) was the lowest ever recorded by KID. We truly could not have done all this, and more, without our incredible supporters.
But there is much more work left to do. In 2017, KID wants to fight harder than ever to protect children, and we need your help. Donations from our supporters help us sustain educational workshops and programs, innovative research, and life-saving outreach. Help us continue to be an advocate for vulnerable children and a voice for parents by giving to KID's year-end campaign.
For two decades, Danny's family has experienced both joy and pain, both love and suffering. But most importantly, they have seen the hope that emerges when passionate and dedicated people come together to make a difference. So, will you join us by donating today?
Linda Ginzel and Boaz Keysar, Danny's parents and KID's cofounders, are offering a 1:1 match to donors who give in Danny's honor between now and Danny's birthday, December 31st. In addition, the Logan Foundation will match all new and increased donations up to $10,000. That means your donation could be tripled, and every dollar will go toward protecting our children.
In memory of Danny and in solidarity with KID's mission, #GivetoKID.