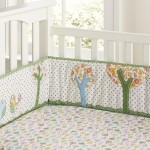 In April of 2012, Chicago became the first city in the U.S. to ban the sale of crib bumper pads. In 2013, Maryland followed suit, becoming the first state to ban these dangerous products. More recently, both the state of Ohio and the borough of Watchung, New Jersey also banned non-mesh crib bumper pads.
In 2013, KID investigated Chicago retailers' compliance with the ban by visiting and calling a variety of Chicago-area stores and attempting to purchase bumper pads. The results were encouraging; of the 14 stores, only 3 displayed bumper pads or had them in stock.
Recently, KID decided to look into the availability of crib bumper pads from online retailers, and the results were discouraging. Of the 33 online retailers we surveyed, 25 (78.1%, or the vast majority), including Kohl's and JCPenny, permitted us to order and ship bumper pads to addresses in both Chicago and Maryland. Only four retailers—Bed Bath & Beyond, The Bedding Company, RH Baby & Child, and Wayfair prevented the sale of crib bumper pads to both Chicago and Maryland addresses. Hayneedle and Target were the only retailers found to not sell bumper pads to any locations. For more information, you can check out our memo on this research for an in-depth review of the findings and their implications for KID's work on safe sleep.
In light of these findings, KID again wants to reiterate the dangers of using crib bumpers and the importance of creating a sleep environment that meets AAP Safe Sleep Guidelines. These guidelines, updated in 2016, include a recommendation to "keep soft objects and loose bedding out of the infant's sleep area."  Here's what you need to know:
The safest way for babies to sleep is on their backs in a bare crib with a tight-fitting mattress
All other crib bedding products – crib bumpers, sleep positioners, comforters, pillows, or toys – can increase an infant's risk of strangulation, suffocation, and SIDS. #BareIsBest
Crib bumper pads, in particular, put an infant at risk for suffocation or asphyxiation if the infant's face becomes pressed against the pad, or if the infant becomes trapped between the pad and the side of the crib or mattress.
Don't be fooled by marketing that claims some crib bumper pads are safer or "breathable" – even bumper pads that meet industry standards have been known to result in injury or death
Although the risk of suffocation decreases as children get older, older children can use the pads to climb out of the crib, increasing the risk for injuries due to falls
For more information, visit our product hazard page on crib bumper pads.
KID has been reassured by the bumper pad bans in Chicago, Maryland, Ohio, and Watchung, New Jersey, but the availability of these products from online retailers proves that our work on this issue is far from complete. We MUST push for a national ban on these unsafe products – that is the only way to ensure they are withdrawn from circulation and that no other children lose their lives needlessly. Even after the updated AAP guidelines were released, the CPSC released a letter urging consumers not to use these products, but fell short of calling for a ban.
Want to join this fight alongside KID? Call or email us to get more information about safe sleep environments, crib regulations, or to find out ways you can take action! Speaking with retailers, policy makers, or other parents and caregivers are all effective ways to help KID advocate for sleep safety.