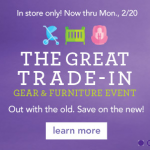 It's that time of year again – the Babies"R"Us Great Trade-In Event is upon us! This is always a popular event – and for good reason. Children outgrow things quickly, and products that see a lot of frequent use can become heavily worn and unsafe, or even recalled. It's important to take stock regularly and evaluate whether the items in your home are in good, usable condition. KID recommends replacing outgrown, damaged, or unsafe items with newer versions that meet the strongest and most current safety standards. This Trade-In event is an opportunity to purchase newer, safer, products at a lower cost.
From now until February 20, Babies"R"Us is hosting The Great Trade-In Event for old gear and furniture. Unwanted, outdated, or recalled products can be traded in for 25% off new products. The promotion applies to products including: car seats, strollers, travel systems, high chairs, play yards, bassinets, infant swings, bouncers, walkers, entertainers, cribs, and beds. Some products, like car seats, need to be replaced regularly. If a car seat has been involved in a crash, it is damaged (even if it doesn't look like it!) and will no longer provide adequate protection. Older car seat models may also have been recalled, or might no longer comply with today's national safety standards. Safety standards have also been updated and strengthened for products such as cribs, bassinets, and play yards. Check that your products meet current safety standards, and if they do not, consider trading them in for models that do.
KID strongly supports efforts by retailers to protect their customers and help create safer homes and communities. Thanks to this program, replacing used items that do not meet federal safety standards is easier and more affordable for parents across the country. If you have used children's items, you can review for potential hazards or recalls on KID's Product Hazards site or SaferProducts.gov and then check out The Great Trade-In Event website for more information. You have until February 20th to trade in your items, start saving, and make your home safer.