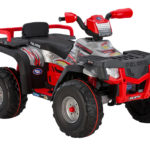 During this National Burn Awareness Week, KID aims to draw attention to some common burn and fire hazards. Fire and burn hazards have received more attention recently due to the Samsung Galaxy Note7 and Hoverboard recalls. According to the CDC, 300 children are treated in emergency rooms every day as a result of burn injuries. Another 2 children die every day as a result of burns. Our goal at KID is to help prevent these injuries and fatalities, and specifically those caused by unsafe or recalled products.
To do this, we are outlining a few children's products that are common burn hazards and how to avoid them.
Battery-powered toys: There are a wide range of toys that can pose burn hazards. However, there are certain types that are more likely to pose a risk. Some toys with batteries or internal circuit boards can quickly overheat and cause burn injuries. The Peg Perego Ride-On Vehicle pictured above was recently recalled. The circuit board occasionally failed, causing batteries to overheat, which could then burn the children riding it. To see if your toy has been recalled for burn and/ or fire hazards, visit CPSC.gov
Hoverboards & Similar Motorized Toys: Hoverboards made news in the past year or so, first for how fun they were, and then for how dangerous. It took about 100 incidents to be reported before many models were officially recalled by the CPSC. Newer models should meet the UL standard to prevent fires and burns. If you are unsure about purchasing a hoverboard or another similar product, search for the product on CPSC.gov to see if that model has been recalled.
Accessories: Children's watches can be particularly dangerous due to the battery in them. McDonald's recently recalled 29 million Step It! watches/fitness trackers given away in happy meals to children. The watches gave children skin irritations and burns. Flashlights and remote controls are also often recalled due to overheating and burn hazards.
Follow the hashtag #BurnAwarenessWeek on Twitter and Facebook for safety tips, hazards, and updates this National Burn Awareness Week. Be sure to follow KID on Twitter and Facebook as well.
Check CPSC.gov often to see if a product has been recalled due to fire hazards. If you experience a fire or burn incident with a product at home, report that incident on SaferProducts.gov to help alert other caregivers. Also, sign up for our email alerts to receive updates from KID about the latest recalls. Checking for recalls and taking these preventative measures can help you avoid fires and burns.