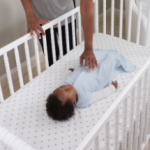 A recent study from University of Wisconsin-Milwaukee College of Nursing looked into how parents around the world make decisions about where their infants sleep each night. The researchers wondered: what factors go into parents' decisions about their infants' sleep environments? They found that safety was a primary concern for parents, but other factors, such as comfort for baby and parents, ease of access to baby, and ease of breastfeeding, also impacted parents' decisions.
The key findings were:
Most parents had their child sleep alone: 89% of parents reported one sleep location for their infant and 14% reported two locations.
71% of infants slept alone, and 29% shared a sleep surface with their parents.
Cribs had the highest percentage of overall use (43%). Other sleep locations used were adult bed (27%), pack-n-play (10%), co-sleeper attached to adult bed (10%), inclined sleeper (4%), bassinet (2%), bouncer (2%), and the floor (2%).
Safety was listed as a primary concern for parents when making sleep location decisions: 45% of parents stated that they decided based on safety. Other concerns listed were comfort for the baby, quality of sleep for the family, ease of access to the infant, and ease of breastfeeding.
The highest percentage of families (34%) reported not being worried about their child while they are sleeping. In this group, 89% slept in separate spaces and 11% shared. Of the parents that shared a sleep surface, 71% worried about smothering their infant.
Safe sleep strategies listed by parents were: clear sleep surface (22%), no blankets (20%), no toys (16%), sleep sack use (16%), and firm mattress (14%).
While most of the participants were in North America, participants came from 10 different countries and five continents. As both KID and other organizations promote safe sleep in the U.S. and worldwide, it is important that diverse decision factors and worries are addressed.
Safety was a major concern for parents, and KID will continue to provide families with the most up-to-date sleep safety measures. This study also highlighted the many other worries parents have that are not directly related to safety. By understanding these other concerns, we can address safe sleep in new ways and make our messaging more effective.
We believe that this study is a great start to understanding parent concerns around the world; however, there is a long way to go to get a full picture. The small sample size and English language requirements limit these results. We're excited to see how future research can continue to fill in the gaps about safe sleep.
For more information, you can check out our memo on this research for an in-depth review of the findings and their implications for KID's work on safe sleep.