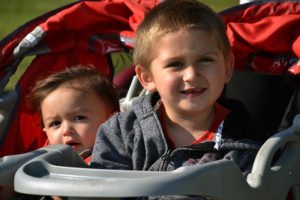 As consumers, parents and caregivers expect nursery products such as cribs, strollers, and
high chairs to be safe. Unfortunately, we at KID have seen time and time again how many nursery products pose serious hazards to children.  A new study from the Center for Injury Research and Policy at Nationwide Children's Hospital has looked at 21 years of data to investigate trends in nursery product-related injuries. They found that in the U.S., a child three or younger is treated in an emergency room for an injury related to nursery products every 8 minutes. This amounts to 66,000 infants and toddlers treated in emergency rooms for nursery product-related injuries each year.
The study looked at data from January 1991 to December 2011. During the earlier years, injuries decreased as injuries from baby walkers became less common. However, researchers found that in the last 8 years the number of nursery product-related injuries actually increased by 23.7%.
Most injuries were caused by baby carriers (20%), cribs/mattresses (19%), and strollers/carriages (17%). Almost all (88%) of the injuries occurred at home, and 81% of injuries were to the head, face, or neck, which is particularly dangerous for children under three. Dr. Gary Smith, senior author of the study and director of the Center for Injury Research and Policy, noted the success with the reduction baby walker-related incidents due to a stronger standard and added: "We now need to aggressively apply this approach to other nursery products. It is unacceptable that we are still seeing so many injuries to young children from these products."
The Center for Injury Research and Policy recommends, as we do at KID, that parents research products before buying, check for recalls, register the products they buy, and always read product manuals. By visiting www.cpsc.gov or www.saferproducts.gov, parents and caregivers can research the products in their homes to see if have been recalled, or if other consumers have reported incidents with those same products. To make sure that you hear of a recall, register your product with the manufacturer. KID has a PDF list that will allow you to access online registration forms for products you already own. Taking these simple steps can go a long way towards preventing nursery product-related incidents and keeping children safe.