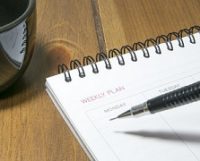 As usual, KID staff, interns, and volunteers have been hard at work. Here's a look at what we've been up to over the last week:
All week: KID interns and work study students have been returning to the office after their spring break vacations. Check out KID's blog to meet the 2016-2017 work study students from the University of Chicago. As KID prepares for this year's Best Friend Award Night, the interns have been hard at work reaching out to local business and restaurants for raffle and auction donations, as well as promoting the event on social media and in Chicago-area publications. Want to help with this great event? Let us know!
Tuesday: KID's Program Associate, Carson Gaffney, attended the Spring Into Action conference hosted by Illinois Action for Children in Springfield, IL. The conference brings together early care and education providers, educators, parents and advocates from across Illinois to discuss the most pressing issues facing early childhood professionals. Carson participated in sessions on supporting children and families experiencing homelessness, an update on early childhood policy in IL, and a discussion on how public health policy impacts low-income families.
Wednesday: Carson met with a team of AmeriCorps-affiliated volunteers from Public Allies Chicago who are working with KID on a 6-month long Team Service Project to expand and improve our outreach efforts. Data has shown that children in low-income communities face a disproportionate risk of unintentional injury. The Public Allies volunteers will assist KID in improving the quality and accessibility of KID programming by researching the home and safety needs of low-income Chicago families.
Thursday: KID ED Nancy Cowles spoke to CBS Reported Dave Savini about the safety of inflatable slides and bounce houses at local amusement centers. Click here to view the clip.
What's next? KID staff and interns have been working hard for the past few weeks to prepare for the release of our Annual Recall Report and Spring Newsletter. Both will be released next week. In addition, Nancy has been meeting throughout the week on small task groups preparing for next week's ASTM meetings on juvenile products and furniture stability. Stay tuned for updates on the KID blog and on social media.