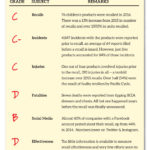 On Monday, along with Illinois Attorney General Lisa Madigan, US PIRG and Illinois Action for Children, KID released new data on product recalls and children's safety. This year marked a reversal of decreasing recall and injury numbers that the U.S. has seen in past years. In 2016, the number of recalls reported, as well as incidents and injuries associated with recalls, increased.
The annual recall report, A KID Report Card: Children's Product Recalls in 2016, looks specifically at the recall data for 2016, and measures the effectiveness of 2015 recalls to get dangerous products off the store shelves. Since 2002, KID has examined recalls and effectiveness of company recall policies in our annual recall report card. This years report found that there were 76 children's product recalls and over 66.8 million total units of children's products recalled in 2016, the largest number of units since the recall in 2004 of 150 million vending machine toys.
The bad grades given in our report stem from a lack of changes in the recall process. In 2016, it took an average of 64 reported incidents before pulling dangerous products from the shelf. This is up from 12 in 2015 and 5 in 2014.  However, a few recalls with well over 100 incident reports were mostly to blame:
Tommee Tippee Sippee Cups had over 3,000 reports of mold in the cups prior to recall along with 68 reports of illness from the mold.
Pacific Cycle recalled two stroller models after 132 incidents – resulting in 215 injuries – due to injuries to both children and caregivers.
Hillsdale Furniture had 650 reports of the side mattress support rails cracking or breaking prior to recall.
However, not all was bad. This past year marked the first time that no cribs were recalled. We attribute this major feat to the breakthrough 2008 Consumer Product Safety Act (CPSIA), a key section of which is named for Danny Keysar, whose parents founded KID. CPSIA sets strong national standards for product safety, and the strong new crib standards have made today's cribs safer than ever.
Along with this good news, more companies are reaching out to consumers about recalls through social media. We found that 59% of companies with a Facebook used to it contact consumers about dangerous products and how to receive refunds or repair kits.
KID wants to acknowledge these accomplishments, but also stay mindful of the many challenges that lie ahead for us in 2017. "Despite improvements in standards and social media use, recalls are still happening too slow and too little is done to get the product out of homes," concluded Nancy Cowles, KID's Executive Director. "KID is making this our priority for 2017 and we hope other stakeholders, including CPSC, will as well."
You can find more findings from the report here.
In a statement, Janet and Jeremy McGee whose son Teddy was killed by the IKEA MALM dresser in February 2016, asked, "When your son's death is the last of a long string of injuries and deaths over a 27 year period of time, you can't help but wonder why this had to happen. What would life be like today had IKEA acted sooner to recall these defective dressers?"
KID will continue to work to provide consumers, manufacturers, and policymakers with the information they need to increase recall effectiveness, broaden consumer awareness, and decrease incidents, injuries and deaths related to children's product recalls.
We recommend that parents check SaferProducts.gov for recalls and injury reports and sign up for safety updates at KidsInDanger.org. In addition, parents should report problems with a product both to the manufacturer and to CPSC at SaferProducts.gov, and urge policymakers to make strong standards and recall effectiveness a priority.