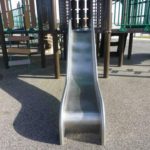 Winter is finally giving way to warmer temperatures, which means it's time for kids to start spending more time outside. Playgrounds are a favorite for kids and caretakers, but they can also pose some unique hazards.
Last month, CPSC released a report on playground injuries, which detailed the types and causes of injuries that children experienced at playgrounds between 2009 and 2014. More than one-third of all reported injuries (1,239 out of 3,014) were related to the Troxel Flexible Flyer Swing Set, which was intended for backyard use. A design flaw meant that the see-saw seats could break away from the bolt fastener while in use and posed a fall risk. Other equipment-related injuries were caused by swings, when the chain or rope broke away and the child fell. Not all falls were related to equipment malfunctions; 523 children fell from structures such as slides, monkey bars, and climbers. Less common were collision injuries in which children ran into each other.
The report also stated that between 2009 and 2014, 34 people died on playground equipment. The most common type of death was asphyxiation. Of the 19 asphyxiation deaths on playground equipment, 5 occurred on swings and 5 occurred on slides. Twelve asphyxiation deaths involved a second product such as a jump rope or drawstring clothing. Head and neck injuries were the second leading cause of death.
Reports like these from CPSC help inform advocates and consumers about the most common hazards, so that we can better prevent injuries and deaths. Keep these safety tips in mind to help protect kids from hazards:
Search for playground equipment recalls at CPSC.gov. Do not let children play on recalled equipment.
Check that playground equipment is sturdy and doesn't pose a risk of breakage or tip-over.
Dress appropriately: jewelry, purses, scarves, and drawstring clothing can pose asphyxiation hazards. Bike helmets can also be asphyxiation hazards if the strap becomes snagged on something.
Check that playground equipment is dry, and try to dry off wet equipment before using. Wet equipment can be slippery and lead to falls.
Opt for playgrounds with impact-absorbing surfaces such as sand, pea gravel, wood chips, mulch, shredded rubber, rubber mats, or synthetic turf.
Teach children appropriate playground behavior—no pushing or shoving, especially on top of equipment.
When it comes to outdoor safety, parents and caregivers should also be aware of the dangers associated with portable soccer goals. If not secured properly, these portable goals can tip over on children and cause serious injuries, and even deaths. Since 2000, five children have been killed by portable soccer goals, including a 2-year-old who died in Nashville earlier this month. Check out this article for more information on this hazard and further safety tips.
With these tips in mind and a watchful eye, kids can be safe and have fun on the playground. Follow KID on Facebook and Twitter for more safety updates.