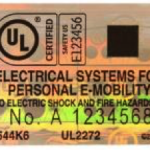 Hoverboards made the news a year ago when hundreds of incident reports led to recalls by 10 manufacturers. Even after these recalls, hoverboards continue to pose a fire risk to consumers. KID, Safe Kids Worldwide, and the Consumer Federation of America recently released a statement urging consumers to take certain precautions when purchasing, using, storing or charging hoverboards.
Most overheating incidents occur when a hoverboard is left charging unattended. Hoverboards can quickly overheat, causing the deathly fires and explosions that you may have seen on the news. As recently as March, 2017, a hoverboard caused a house fire that led to three deaths in Harrisburg, PA.
Only recently have hoverboards become slightly safer to purchase and use. On November 21, 2016, UL approved the most updated and complete safety standard regarding e-Mobility devices, UL 2272. Check that any hoverboard you purchase meets this standard by looking for the UL label pictured here.
Even with new safety standards, consumers should be aware of the dangers hoverboards continue to pose. The CPSC warns consumers not to leave hoverboards charging unattended, not to charge them overnight or for long periods of time, and to always have a fire extinguisher close to a stored hoverboard. Other injuries associated with hoverboards often come from falls or crashes, which can be especially damaging to a young child. When on a hoverboard, children should always wear a helmet and other protective gear. These products should never be used at night or around cars.
At KID, we are committed to providing consumers with the most updated information regarding children's product safety. We will continue to watch hoverboard regulations and give you updated information so that you can make the safest decision when buying a hoverboard. Read our full statement on hoverboards here, and follow us on Facebook, Twitter, and Instagram to stay up-to-date.